Software
New updated from 2021
 RTTYops WW RTTY DX CONTEST - Scandinavian Baltic RTTY CONTEST
DXLOG + Rumlog only with correct scoring
The logrobot will fix all total scoring ! 
 Just submit your log as SCC if that you can do !
SETUP DX LOG
How to setup DXLOG in RTTY ? 
1. Youtube video Guide here
2. DXLOG SETUP http://dxlog.net/docs/index.php/Menu_Windows 
Digital Decoder Windows
There are four digital decoder windows (two for each radio), each enabled by selecting separately from the Windows menu.
The four selections are located just below the Radio1/Radio2 band map menu picks, and the exact wording is dependent on the RTTY Configuration.
IMPORTANT: Radio 2 windows will only be active if SO2V, SO2R or Advanced SO2R are enabled in Operating|Technique.

Before using the decoder windows, they must be configured using the RTTY Configuration panel: Options|RTTY Configuration

After configuration, each decoder window menu selection will show which decoder has been configured, for each selection (Primary/Secondary)
and radio (Radio 1/Radio 2). Note that the Primary decoder is the decoder used for the transmit interface, usually MMTTY.
Selecting the appropriate menu pick will open the decoder window. The Primary decoder window will display a set of clickable buttons
at the bottom that duplicates all message function keys. The Altx buttons provide access to the messages defined in the
Alt-C (Other Messages) form. In addition, there is an Alt-K button (open keyboard mode window) and a (C) button (clear decoder window).
Callsign and exchange can be grabbed from the decoder window by clicking. Holding down [Alt] while clicking will grab a
call to the partner stack.

When the decoder windows are opened the first time, it will be necessary to configure each one for input and output parameters such
as sound card, FSK port, etc. These settings will be saved by the decoder program and only need to be configured the first time.
Right click on the main decoder screen opens the options dialog

Clear window will clear the receive screen characters.
When Parse is checked, it will parse full line and sends to other windows for processing.
For example, in QTC receive window, it will parse full qtc line and populate all fields (utc, call, serial)
Note: MMTTY will only save the FSK port settings if you close the MMTTY windows before closing DXLog.
If you let DXLog close the MMTTY windows the FSK port will reset to NONE and will need to be selected at the next use.

Example of MMTTY engine window.
---
N1MM+ Logger 
You can still choose to use OLD SCC module for this contest, but you will miss out mults for prefixes.
Here is listed for old Contest SCC.
N1MM + SETUP EXCHANGE WITH OLD SCC
N1MM + SETUP EXCHANGE WITH G4OGB UDC FILE
DOWNLOAD HERE <<RY_OPS UDC >>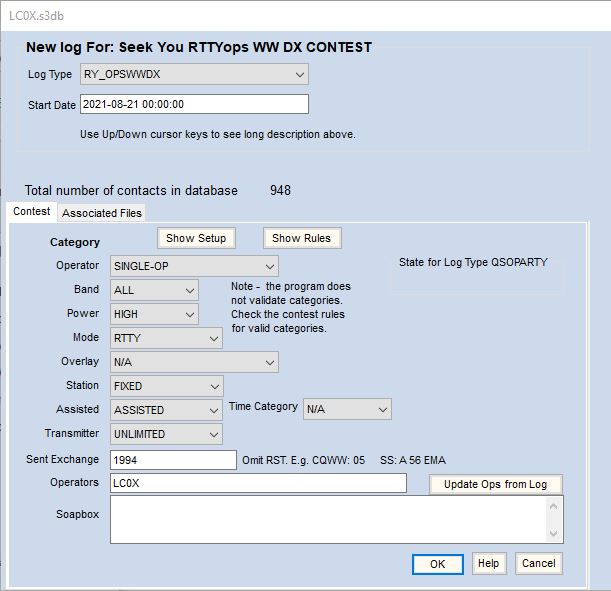 ---
Writelog V12
1. SM6SRW Must be downloaded here
2. Find Writelog - Windows startmenu - > Legacy Installer
3. The module can be installed with  help of Writelog 12 Legacy Installer , only way to get it work in Writelog 12.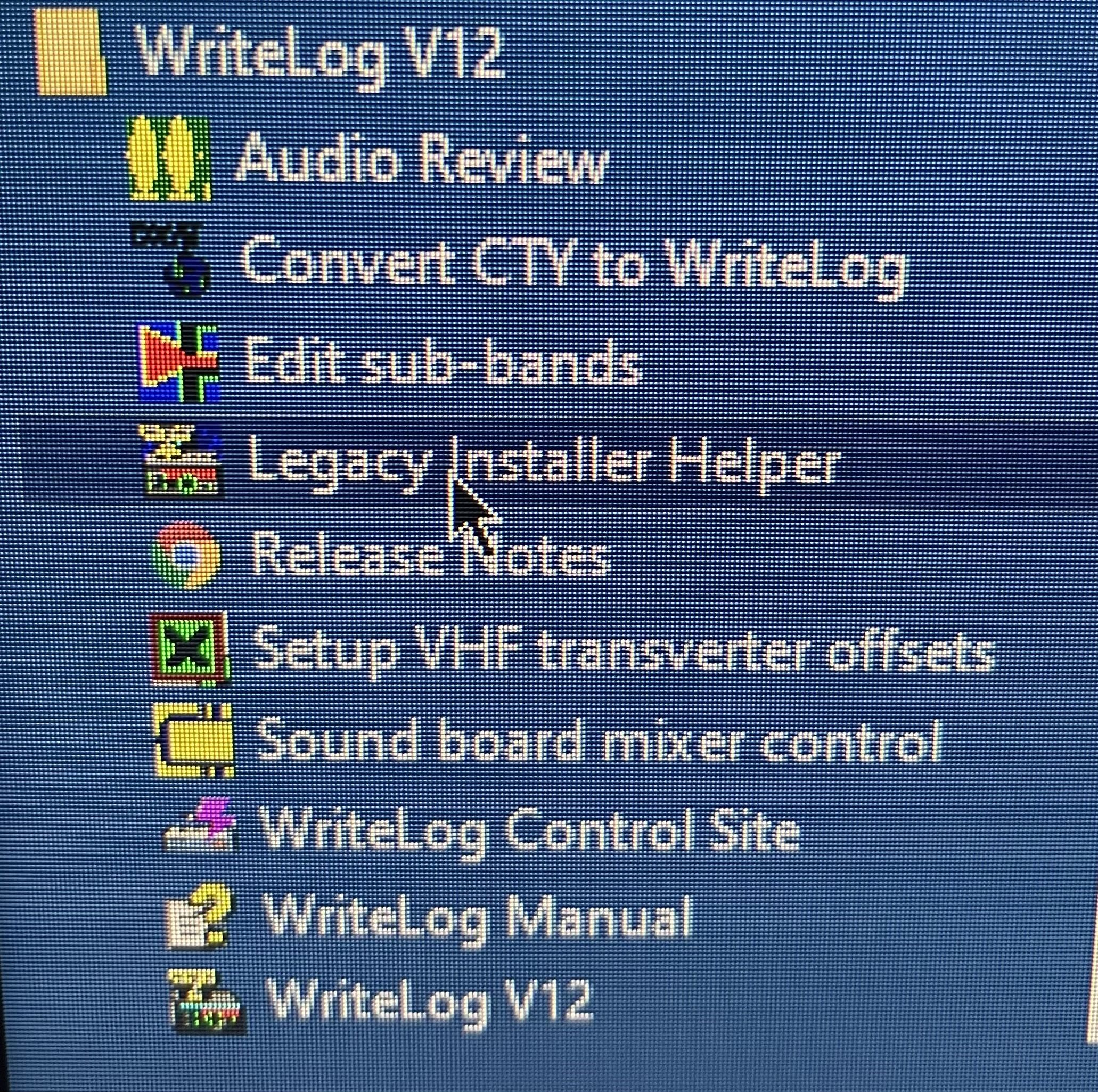 3. Find your WLCM_SM6SRW050110.exe file-
4. START install with the Legacy Installer. 
5. Wait till finished
6. Start up Writelog from Windows start menu. 
7. Start new LOG
8. Choose SCC RTTY Championship
9. Then select  menu - CONTEST - OPTION - PARAMETER SETUP -> SETUP your license year
SETUP WRITELOG in RTTY ?
1. Download MMTTY Download here
2. Download MMTTY Engine V1.68a here
3. Download Active X Control here
4. Download TNC emulation here
Using homemade FSK interface? 
5. Download EXTFSK engine EXTFSK106 here
Writelog Tutorials page 1 by AA5AU https://www.rttycontesting.com/tutorials/writelog/ 
Writelog Tutorials page 2 by AA5AU https://www.rttycontesting.com/tutorials/writelog2/